1.) How to Filter data on the basis of color –
In excel u must have heard about Filter option which is used to filter the data on the basis of our specifications.
but what if you have highlighted some data with colors and want to filter out them. for that u just have to apply filter on the data using short cut key CTR + ALT + L —> click on the filter button—> Filter by color = choose the one color u want to filter out and its done.
Limitation of this option – it can only filter out one color at a time.
well friend their is a trick to do it with 2 colors if you want to learn then comment below i will tell you that in Next session.
2.) How to change the theme in Ms – excel
Bored of the regular theme of Ms – excel then you can change the theme of the Excel using the 3 Simple things
1.1) Go to File tab in top left corner
1.2) Go to option
1.3) their in general tab in 3rd heading – personalize Microsoft office you will see theme option, change it according to your preference.
3.) How to Substract % in Excel
its easy to subtracts a number in excel, But its a bit tricky to subtract % in excel
lets do it with a example
Suppose you are doing a Job and your salary got increased by 15% or Reduced by 15%. Your basic salary in this case is 50000
Now you can calculate it using
1.) new salary(if salary increase by 15%) – =50,000*(1+15%) = 57500
2.) new salary(if salary reduced by 15%) – =50,000*(1-15%) = 57500
here you have to use Multiply sign also ok
Don't do it like =50,000-15% It wont work if you want to know why then do comment below and email me i will surely respond
4.) How to arrange Two worksheet in excel
Generally if there are 2 Excel worksheet opened in excel then in order view both of them
1.1) either you have to watch them one by one
1.2) or arrange them in way that you can watch them together – well in this case excel has inbuilt function called Arrange All –> in View Tab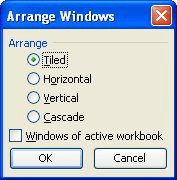 5.) Short Cut key to Auto adjust the column width
Well here i will tell you both the short key to of auto adjusting a column width and way to remember it
its ALT + O + C + A
I remember this key by simple example
generally i have seen that ALTO Car is purchased mostly by CA (chartered accountancy) fraternity and the Short cut key to adjust column width automatically is also
ALT O C A 😉
LETS WRAP IT UP FOR THIS WEEK
I HOPE THE ABOVE INFORMATION WILL ADD VALUE TO YOUR WORK.
BUT WAIT WAIT ITS NOT DONE HERE YOU HAVE TO PRACTICE EACH TRICK AT-LEAST ONCE.
IF YOU LIKED IT PLEASE SHARE YOUR VIEW VIA EMAIL
IF YOU DIDN'T LIKED IT OR FACED ANY PROBLEM IN ANY TIP PLEASE LET ME KNOW VIA EMAIL
SHARE THE SAME WITH YOUR FRIENDS AND TEAMMATES
IF YOU ARE NEW VISITOR YOU CAN SUBSCRIBE TO WEEKLY FREE TIPS BY CLICKING HERE